JENNI'S OFF-GRID NEWSLETTER, NO. 10 (MARCH, 2016)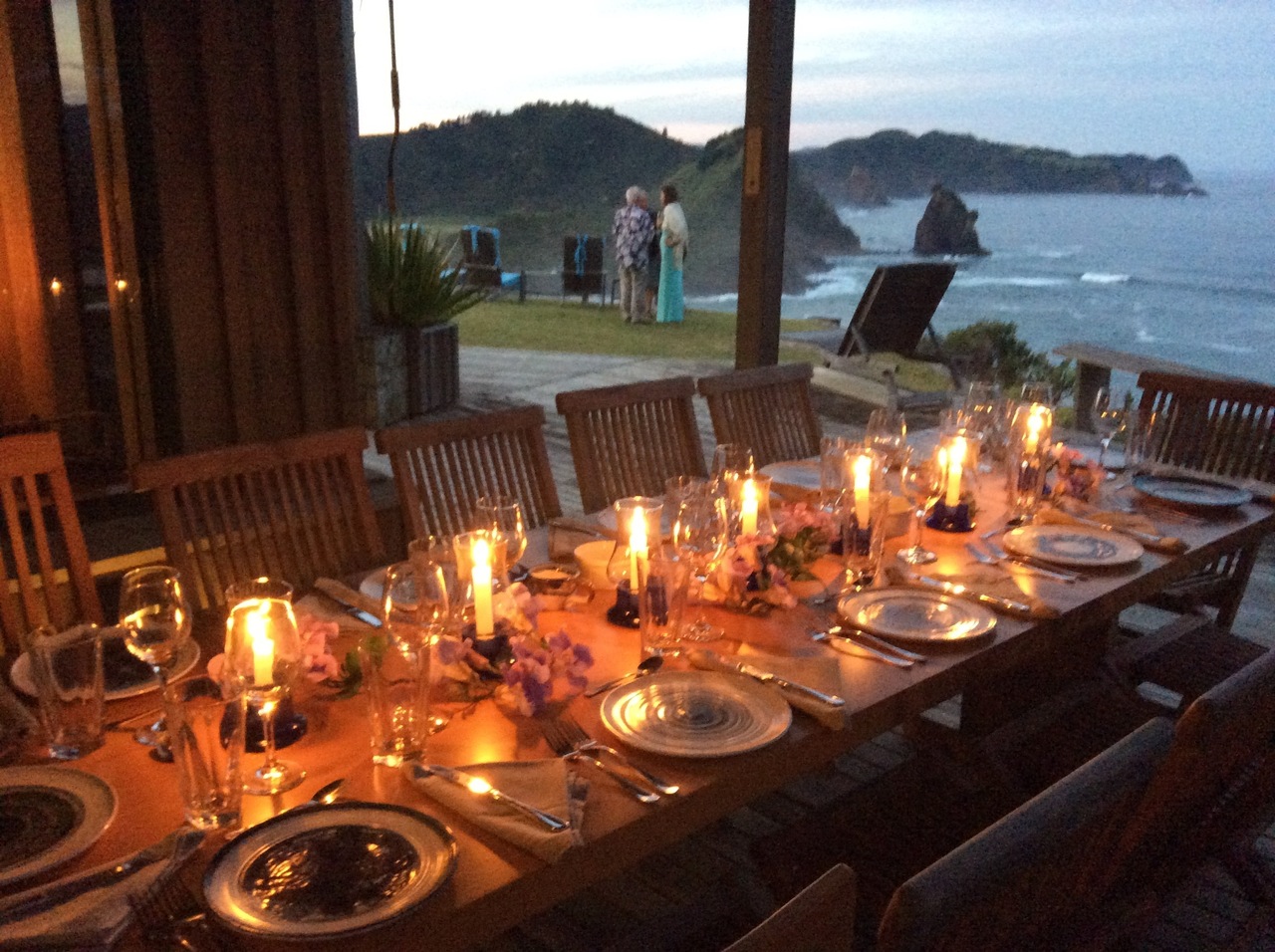 April 2, 2016
Busy as a Bee
So it is April—early April—and this is the March newsletter. Too many dinner parties have been happening on the Barrier; I can count ten we have been to or had here in our house over the past three weeks. Everyone from UK and America is on the island to enjoy their far-away holiday homes and it is all too much fun. As the March deadline weighed upon me as I was recovering from the night before dinner party and ironing something to wear for a dear friend's 60th that night —held in a world class boutique restaurant, Earthsong, in a spectacular location so unaccessible that the owners collect their guests at the gate and 4WD them through a river gully to reach their destination and an out-of-this-world degustation two hat experience. So I simply decided the newsletter was going to miss my self-imposed deadline. Then April Fools Day arrived and we had friends over for a no-hat dinner and games—Bananagram and Spy Alley; our guests did include two 14-year-olds. On 2nd April I was ever-so-slightly exhausted and perhaps a teensy bit hung over, as the 14-year-olds were into the wine big time, so here it is, April 3rd (but April 2nd in the Northern hemisphere, not quite so late). I know that not one single person on my e-mail list will have even noticed that my monthly missive hasn't pinged into their mailbox, but those deadline rules I inherited from someone (my father perhaps?) are hard to squash.
Perhaps my tardiness with deadlines has something to do with my age, which the whole of NZ (at least those who read the
NZ Listener
) now know. In the March 12th-18th issue, the lead story by the wonderful Nicky Pellegrino was titled
Stay Sharp for Life:
"Forget all you know about memory and having 'senior moments.' Compelling research shows we can supercharge our brains—at any age." After providing all sorts of convincing examples of memory researchers and neuroscientists who were researching this, and who were all pretty old themselves, she got to me. The last column of the story was headed CREATIVE SOLUTION and began thus: "Neuroscientist Jenni Ogden, 67, hopes she has found her own recipe for long-term brain health…" Nicky generously mentioned
A Drop in the Ocean
and quoted me saying "I always think, even if no one ever buys my book, at least writing it has given my brain a workout." Another scientifically firm fact I came out with was "I think that's the answer when you're older. You need something that will make you feel that same passion you had when you were young, that pushed you and makes you happy, because happiness is good for the brain."
Yes, I do stand by both of those comments, although deep down I hope someone buys the damn book after all this March mad marketing… guest posts on book blogger sites, interviews, book reviews to cheer about, Goodreads Giveaways to set up (one on at the moment for US/Canada readers and others to come at the end of April for both US and Australia/NZ readers), adverts to approve, my Street team (loyal friends!) to encourage so they'll spread the word, and all that social networking—FB, Twitter etc which I am not good at. April and May will apparently be even more madcap. As one of the points of beginning an e-newsletter was to encourage readers into my novelish web, I am going to blush and do that right here and now by simply completing this newsletter with excerpts from the US Press Release. (But I will add a book review of someone else's book at the end as usual, so scroll down). Do please order it now—my novel I mean, not the one I review below, although get that too of course, as if Chris Cleave needs any more book buyers—from your favourite bookstore or online from Amazon or wherever you usually get your books. It is available to order right now, as a print book (very beautiful), a Kindle, iBook or other e-pub version. If you order through Amazon you will probably get it early as they are 'notorious' for that. All to the good because then you'll have time to read it and post your honest review as soon as it officially comes out on May 3rd! If your bookstore wants order details here they are:
A DROP IN THE OCEAN
By Jenni Ogden
Publication date: May 3, 2016
She Writes Press
ISBN (13) 978-1-63152-026-6; Fiction/First Novel
Distributors to Trade
US/Canada: Ingram Publisher Services
Australia & NZ: Dennis Jones & Associates, Melbourne
UK and Europe (also NZ): Baker & Taylor.
From US Press Release
This May, She Writes Press releases
A DROP IN THE OCEAN
, a first novel by acclaimed neuropsychologist and nonfiction writer Jenni Ogden.
In the novel, Anna Fergusson runs a lab researching Huntington's disease at a prestigious Boston university. When her long-standing grant is pulled unexpectedly, Anna finally faces the truth: she's 49, virtually friendless, single, and worse, her research has been sub-par for years. With no jobs readily available, Anna takes a leap and agrees to spend a year monitoring a remote campsite on Turtle Island in Australia's Great Barrier Reef. What could be better for an introvert with shattered self-esteem than a quiet year in paradise? As she settles in, Anna opens her heart for the first time in decades—to new challenges, to new friendships, even to a new love with Tom, the charming, younger turtle tagger she sometimes assists. But opening one's heart leaves one vulnerable, and Anna comes to realize that love is as fragile as happiness, and that both are a choice.
A DROP IN THE OCEAN
is a deeply moving novel about second chances and last hopes, about loving and letting go, and about the power in self-discovery.
"Readers will enjoy this novel of second chances, not only at love but at life, reminiscent of Terry McMillan's
How Stella Got Her Groove Back.
"
—Booklist
"In
A Drop in the Ocean
, protagonist Anna Fergusson learns that love is about letting go. Jenni Ogden takes us on a sweeping journey, rich with unique characters and places, moving backward and forward in time, to reach this poignant and heartfelt lesson."
—Ann Hood
,
New York Times
best-selling author of
The Knitting Circle, The Red Thread,
and
The Obituary Writer
"This is a quietly majestic book, taking on quests for identity, for connection, for love, for self - always with dignity and with an impressive breadth of understanding. Like the turtles whose lives and habits are tracked in these pages, the characters at the heart of
A Drop in the Ocean
move gently but with enormous consequence. Here is a book to lose oneself in - and then share, enthusiastically, right away."
—Robin Black
, bestselling author of
Life Drawing
and
Crash Course: 52 Essays From Where Writing and Life Collide.
"A novel about turtles, the fragility of life, and the complexity of love,
A Drop in the Ocean
will transport you to remote islands with its lyrical natural imagery. This is a story to savor, discuss, and share."
—Barbara Claypole White,
bestselling author of
The Perfect Son
"Reading
A Drop in the Ocean
was everything a reading experience should be, endearing and enduring, time spent with characters who seem to be people I already knew."
—Jacquelyn Mitchard,
New York Times
#1 best-selling author of
The Deep End of the Ocean
and
Two If By Sea
"Evocative and thought-provoking,
A Drop in the Ocean
is a story about belonging—and the ripples that can flow from the family we choose to the family that chooses us."
—Anita Heiss
, finalist in the 2013 Australian of the Year Awards and best-selling author of
Tiddas
and
Manhattan Dreaming
" . . . a deeply affecting story of a woman's journey to open up to love, life, and, most importantly, herself."
—Céline Keating
, author of
Layla
and
Play for Me
"Jenni Ogden is a natural storyteller who writes characters to care about."
—Nicky Pellegrino,
author of
One Summer In Venice.
" . . . . brilliantly written . . . . A powerful read that I highly recommend to readers everywhere."
—Readers' Favorite
"
A Drop in the Ocean
engaged and delighted me . . . .a love affair that transcends stereotypes. . . . Ogden brought the island to life with her words, letting me walk the beaches with Anna, and letting me see the turtles as they laid their eggs. . . .But the book's real treasure is how island life changes Anna. . . ."
—Story Circle Book ReviewsBook Review
Everyone Brave is Forgiven
by Chris Cleave
Everyone Brave is Forgiven
, the new novel from UK author of
Little Bee
, Chris Cleave, puts him on a par with Sebastian Faulks. As WWII is declared, eighteen year old well-heeled and lightly rebellious Londoner, Mary, signs up for an adventure. Teaching school children turns out to be fun as well as a challenge for her, and when all the healthy, white children are evacuated and she is left with the waifs and strays, including Zachary, an eleven-year-old black child whose father is a minstrel singer, for the first time in her life she gets a hint of what real connection means. It takes her very little time to fall for Tom, a man who in peace time would never have made it into her social circle. Tom is a gentle fellow, and as administrator of the school district is guiltily grateful that this essential occupation allows him to avoid active service. Not so for his flatmate, Alistair, who volunteers immediately. The other important character is Hilda, Mary's friend, and from the beginning much more of a gay socialite than Mary.
This beginning draws us in, ever so gradually, as the British were drawn in, to the horrors of the London Blitz, experienced mainly through Mary's character arc, and in to the less well known and every bit as terrible Siege of Malta, experienced viscerally through Alistair's character arc. Tom, Zachary, and Hilda play supporting roles, and by the end of this gut-wrenching tale we see each of their characters change immeasurably as the war grinds on. The love story that binds these characters together is, like so many forged in times of war, based on just a few in-person meetings, yet as deep as the ocean for all that. Cleave's writing is superb and this is a book that is difficult to put down. The ending is never certain, and in the end, is realistic and right.
Article of Possible Interest
My most recent
Psychology Today
post
https://www.psychologytoday.com/blog/trouble-in-mind/201603/the-gene-no-family-wants-sing-about-huntingtons-disease
is about Huntington's Disease and Woody Guthrie, who was one of a number of famous people who suffered from it. Majorie Guthrie, Woody's wife, set up a society to research and assist HD families after Woody's death.
So goodbye for another month with thanks for your support, and carry on conning some more mates or enemies into subscribing to my e-newsletter! http://www.jenniogden.com/newsletter.htm
Contact me:
jenniogdenauthor@gmail.com