JENNI'S OFF-GRID NEWSLETTER, NO. 37 (AUGUST, 2018)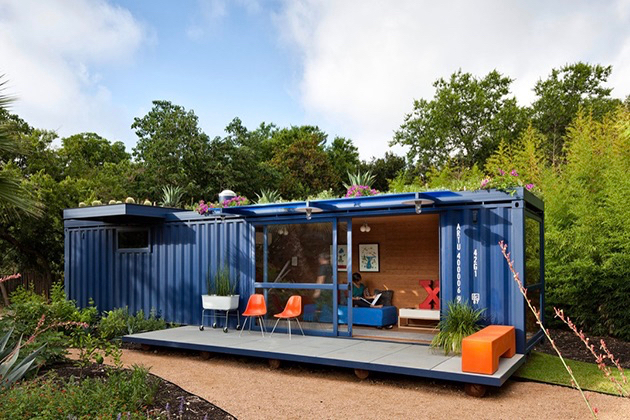 September 2, 2018
A Denim Blue Container and Other Trivia
As usual late with my August newsletter…
Sadly we leave our winter bolthole in the Australian tropics on the 4th September; just when the weather is perfect, the trade winds stilled, the sea blue and calm and warm. On Great Barrier I see the maximum temperatures are 16 or 17 degrees, which will feel a touch chilly after 30 degrees. Never mind, it is early spring there and we will get to see our completed garage, generator shed and two big tanks, all denim blue with surfmist roofs! Our new house build we hope might begin in late September /early October, but for this to happen the house has to get there in bits by truck, container ship, and more Hiabs (that is a truck with a crane!) and getting that organised has been a mission. Not so much the transport from Australia but the delivery dates from the building yards in Australia where it is being made/assembled or whatever they do. So instead of three 20 foot containers all coming at once as planned, we are now getting one 40 foot container and one 20 foot container on different container ships. The 40 foot container then has to be emptied in Auckland and the contents trucked to the Barrier, as a 40 foot container and its truck won't fit on our island roads. Also now all the glass windows and doors have to be made in NZ.
The cost of getting it all from the site where it is packed into the containers, to the Ports of Botany and onto the ships and off at Ports of Auckland costs one quarter of the cost of getting it from Auckland to Great Barrier Island. When I remarked on this to Phil, the Australian Logistics man, he said he'd give me another quote if I liked, based on kms.
This is the easy bit; the design process has been interesting, for want of a better word, as it turns out that Australian building consents are very much more lenient than NZ ones. So the Australian design has had to be modified in various ways (size and number of trussses, joists, blah blah) to fit our requirements. Grand Designs NZ is becoming less of a joke and more of a reality. In some ways I have quite enjoyed some aspects of learning what a joist is; ie: project managing a house build, but it is all a bit theoretical. A lot theoretical! Thank goodness I don't actually have to build it, which would mean I would need to know what a joist actually looks like in real life. We may end up ditching the house idea and using the 20 foot container instead. I did ask Phil to make sure it was Denim Blue.
In between Grand Designs, we have had a few days out; John escaped with a friend into the outback on a birding trip, and I stayed here with my calculator and signed things. We went out to Fitzroy Island also with friends last week; an island only a 45 minute boat ride from Cairns, and with some nice coral and lots of fish, then we went to the Cairns Aquarium which we hadn't been to before. It is excellent. It is strange how one doesn't go to things in one's own location unless one is there for a brief time as a tourist. When we left Auckland after living there for 30 years it did occur to us that we should go back for a holiday and actually see stuff.
Writing
Exciting development here: A top literary agent in the US, Karen Solem of SpencerHill (she is the president of the agency) read 'A Drop in the Ocean' in her bookclub and loved it, and contacted me through one of their other agency authors (the wonderful Barbara Claypole White whose novels I have reviewed in my newsletter), and I sent her the new novel I'd just finished revising (set in London, Hurricane Katrina, and Great Barrier Island; 'working' title 'The Moon is Missing' ) and she loved that too, so after a great Skype call I have signed with her. She will start 'shopping' The Moon is Missing' this month. I hope there is a publisher out there that loves it as much as she does. Won't hold breath.
The audiobook of 'A Drop in the Ocean' is fabulous. l discovered I could listen to it on my iPad. It was like hearing a whole new book; I almost didn't know what was going to happen next! Audiobooks are a rapidly growing section of the publishing/book industry. Good ole Drop has reached 400 reviews on Amazon US with a 4.5/5, and well over 2000 ratings on Goodreads at 4.2/5, so it is all very nice. It will have another boost at the end of September with an e-book 99 cents sale.
Book Review
I Am, I Am, I Am: Seventeen Brushes With Death
by Maggie O'Farrell.
Maggie O'Farrell is a superb British writer, and this incredible and moving memoir is her best book yet. It is written as seventeen stories, from different stages of her life, from her childhood when she was bedridden for a year with an illness she was not expected to survive, to the terrifying story of her daughter's close call—one of many— because of the unimaginably terrible condition she suffers from. In between so many different stories; from a spine –chilling emcounter with a disturbed man, to miscarriages, to muggings. Seventeen times in her life when death brushed by her. It may not sound like a book you would like to read, but it is beautiful, quiet, and thought-provoking; you will begin to recall a few brushes with death you have had as well. After that last story about her daughter, how very lucky I felt.
My latest Psychology Today blog post
Now That Was A Moment where I muse about those wonderful and rare occasions when a live performance becomes something more.
https://www.psychologytoday.com/au/blog/trouble-in-mind/201808/now-was-moment
.
E-newsletter:
http://www.jenniogden.com/newsletter.htm
Contact me:
jenniogdenauthor@gmail.com