JENNI OGDENFREE AUDUIOBOOK and E_BOOK SALE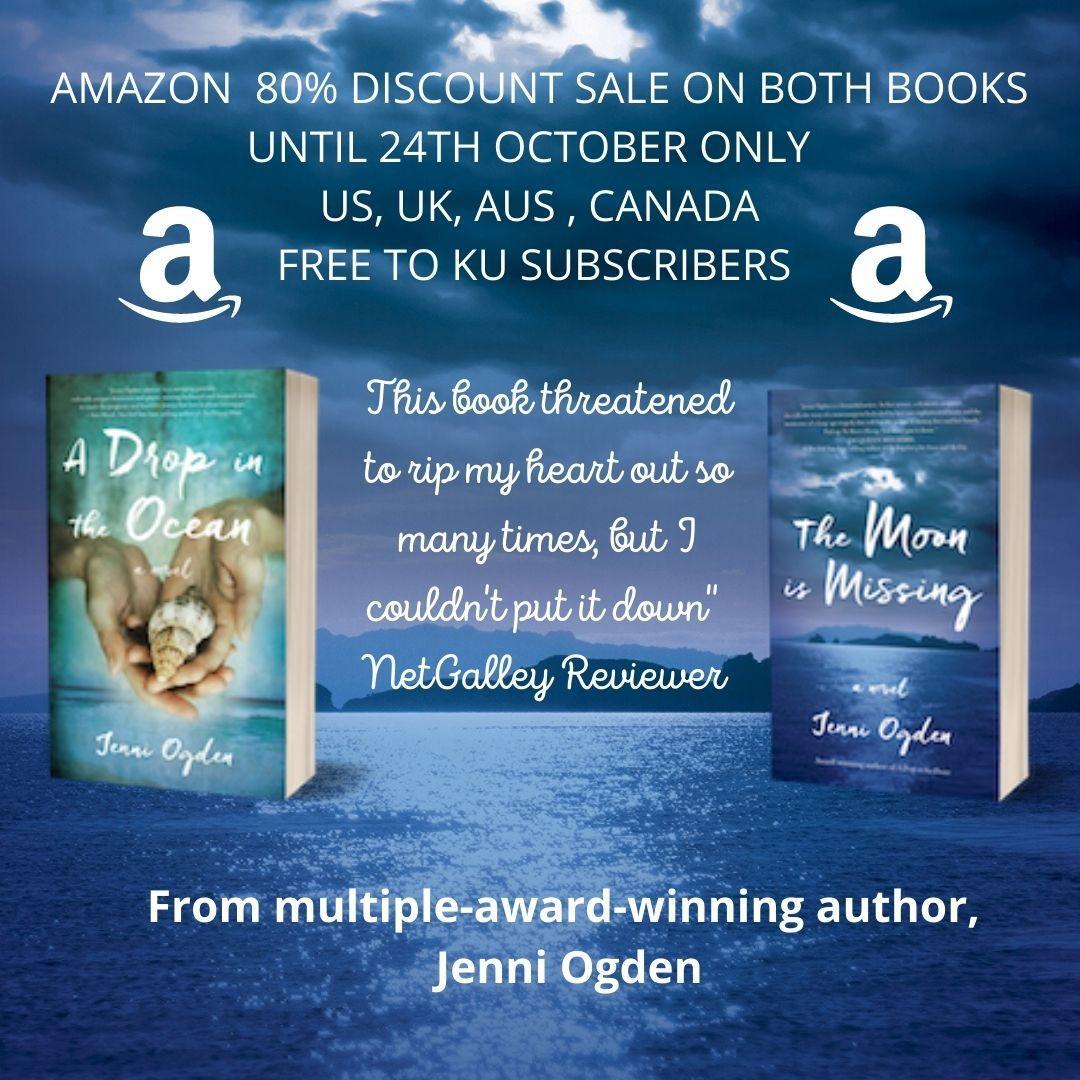 October 20, 2020
Kia ora, my friends, again, (The previous one you got a few minutes ago had lost its links and image, a gremlin in the system. Hope this one is OK!)

This is not a newsletter… but a quick 'e-mail' in the guise of a newsletter to alert you to:

KINDLE E-BOOK SALE
Right now there is an Amazon Kindle sale on both my new novel, 'The Moon is Missing' and my previous novel, 'A Drop in the Ocean' .

Until 24th October both novels are each US$0.99 in the US and £1.99 in the UK (and free to Kindle Unlimited subscribers) . The e-books are also discounted on the Amazon Canada (Ca$2.99) and Australian (Aus$3.99) sites.You can read Kindle books on all your wicked devices; you just need to download the Kindle reader app. So if you haven't yet read them, this is a good time to download (upload?) them onto your Kindle or other e-reader/phone/iPad.
If you never get around to reading them (and reviewing them of course, hint, hint) then it is way less than the price of a cup of coffee you have sacrificed...
So go ahead and click on your Amazon country link!

US Link to both e-books


UK Link to both e-books


Canadian link to both e-books


Australian link to both e-books


AUDIOBOOK NOW AVAILABLE
ALSO the Audiobook of 'The Moon is Missing' is now available from the following retailers; if you click on the link you want it wil take you to the retailer site:
Google Play

Chirp

Scribd

Kobo, Walmart

hibooks

Audiobooks.com

Apple

It should soon be available on Audible/Amazon as well, but Amazon is taking their time at the moment to get all their ducks in a row.

(The Audiobook of 'A Drop in the Ocean' is available at most retailers, incuding Amazon).

AUDIOBOOK GIFT CODES
However, if you are an Audiobook lover and would like a free Audiobook of 'The Moon is Missing', I have 20 individual Audiobook gift codes to give away to my loyal e-newsletter followers. I will send them to the first 20 who e-mail me (jenniogdenauthor@gmail.com) with 'AUDIOBOOK' in the subject line, and please give me your name and the country where you live. Unfortunately the codes don't work for New Zealand… but they do for US, UK, Canada, Australia. Of course I would be very happy if after listening to the audiobook you reviewed it! (if you enjoyed it…)
Well that is quite enough linking for one night...it is past my bedtime in NZ!

Hope you and yours are well and coping with the current world,

Hugs,
Jenni