JENNI'S OFF-GRID NEWSLETTER, NO. 23 (APRIL, 2017)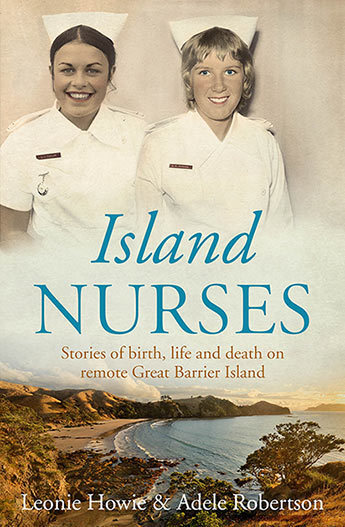 April 29, 2017
An Off-Grid Event
Yesterday John and I went to a book launch. Rather a special book launch as it was also a BARRIER EVENT. For numerous reasons. The launch was held in the wonderful Aotea Community Art Gallery, which showcases and sells arts and crafts of the islanders, from Manuka honey products sold all over the world, to artworks and carvings and jewelry and mosaic and shell mirrors and pottery and sculptures created out of everything imaginable, and books by locals; it was packed with islanders, as colourful as the arts and crafts so many of them make; there was food and wine aplenty; three of the publishers from Allen and Unwin were there, the entire staff of the Aotea Community Health Centre were there; and an island resident descended from one of the families who settled here when the first pakeha (white New Zealander) came, dressed as Florence Nightingale, gave a moving tribute to the two authors of this book, Leonie Howie and Adele Robertson. This story,
Island Nurses,
is their story, and as Adele and Leonie said, the story of everyone who is part of this rural island community.
For more than thirty years Adele and Leonie have lived and breathed their 'jobs'—'vocations' may be a more accurate term—as full-time rural nurse specialists and midwives on Great Barrier Island Aotea. As Florence Nightingale explained, these two women may be called 'rural' nurses but their qualifications also include practice nurse, district nurse, public health nurse, palliative care nurse, child health nurse and school nurse. And of course confidantes, counsellors, and most of all friends of all their 'patients'; that is all who live on this island (around 900 people when they first arrived and still that now. And then there are all the holiday home owners and tourists, who also make good use of the health facilities and staff here.)
Those of you who have read my newsletters for a while will know that Great Barrier Island is 'Off-Grid' and thirty years ago it was not only off-grid but for a sigificant proportion of the inhabitants, off-road, off-phone, and off-beat. But the locals still had babies, cut their fingers—or worse—off with axes or chain-saws, got fish hooks stuck in difficult places, concussed themselves by falling over banks in the middle of a dark and stormy night miles from anywhere—usually less than sober on their way back to their boat, and of course at the bottom of the bank was the rocky shore with the tide fast rising— and on top of all that the locals suffered the usual illnesses like cardiac arrests, strokes, and all manner of mental health problems. And everyone has to die sometime, and islanders tend to want to stay on the island until their last breath, however remotely they live—for example, in a bay or small island that is only accessible by rowing there and then hiking through the bush.
Adele or Leonie, one in a small house/clinic at the rugged north end of the island and the other in the centre, were usually the first responders, as well as the primary health carers. Back then, if the situation called for an emergency flight to Auckland Hospital, add at least two hours on for the helicopter to get the message (if the phones were working), fly to the Barrier and back to Auckland with the patient on board (if the weather allowed it). After many years of running clinics from a caravan (Leonie's husband, Ivan, was the GP until very recently) these two women and Ivan formed with the community a health trust which against great odds was approved, funded and built, and is the modern Community Health Centre we have today (still off-grid though!). Now two GPs share the load, and at least six practice nurses share the nursing duties, and three (when I last counted) wonderful women 'administer' the clinic (
"Sorry for the wait, the doctor had an emergency—that's why that helicopter is outside— but anyone for a cup of tea, scone perhaps, while you're waiting?
). They can make scones but they could probably do the odd bit of brain surgery themselves if necessary. (Note: the island airport is next door, a two minute walk along a bush track so very convenient for the helicopter). The Centre is busy the whole time.
It says a lot that the largest age group currently living here are aged sixty plus. Many of these folk have retired here, perhaps after spending many happy holidays on the island, but many have lived here always, or on-and-off over their lives. It is easy to see why people want to live here—the beauty, the peace, the community, the bush, the mountains, the sea, the fishing, the ruggedness, the isolation, the joy of growing your own produce, making your own power, sourcing your own water—feeling smug when the mainland has a power cut or a water shortage or the price of these services sky-rocket—but aging is no walk in the park so there is always one other reason these fascinating, creative, resilient, independent, couldn't-care-less-about-what-to-wear over 70s, over 80s and over 90s say: we're here because we have the best health centre in New Zealand (read 'the world') because they are skilled, resourceful, they know us intimately, they are one hundred percent professional, and most of all, they care.
But this is not meant to be a book review, especially as I have as yet only read the first 85 evocative pages, which I did as soon as I got home from the book launch last night with book clutched in hand. This is about the essence of community, the blessed relief really that while the world goes mad there are still communities like this, communities who know their neighbours, fight with them sometimes but mostly not, and when there is something to celebrate, they are there, and when help is needed, they are there, and when there is sadness and grief, they are there.
Arohanui Leonie and Adele, and thank you for taking time out of your unbelievably busy lives serving us to write down, in the middle of your nights if no babies are being born or people wanting fish hooks removed, some of the stories that make up such an important part of this off-grid island community. Every community needs someone like you.
(Here is the pubisher's url for the book:
http://www.allenandunwin.co.nz/browse/books/general-books/biography-autobiography/Island-Nurses-Leonie-Howie-and-Adele-Robertson-9781877505843
)
Writing
In to Part Two (73,000 wds) of new novel, not long now! 85,000 or perhaps 88,000 wds is the goal (publishers don't want books longer than this! Perhaps readers don't either.)
Have some news that is not yet public so afraid it might have to be one of those tedious 'Special Editions' in a few days time!
Reminder:
Don't forget to book your tickets for some of the sessions in the phenomenal Auckland Writers Festival, 16th to 21st May. Lots of free sessions too although you need to be there early as the queues are usually long for these. Even I have a small slot , a 10-minute reading from
A Drop in the Ocean
in a free "Four-for-Fifty" session titled "Taking Refuge" where four writers each read for 10 minutes. (Limelight Theatre at the Aotea Centre in Auckland on Friday 19th May at 4pm). Come along.
Here is the url for the program:
http://www.writersfestival.co.nz/programmes/main-programme/
Book Review
The Stars are Fire
by Anita Shreve
I think I have read all of Anita Shreve's novels; indeed I have them all as actual books (not e-books, except for this last, which I am reviewing for Netgalley) in our home library. Shreve comes from Massachusetts where so many wonderful novelists come from. Her first novel,
Eden Close,
was published in 1989; the novel that "broke her out",
The Pilot's Wife
was published in 1999 and was an Oprah Bookclub pick; and she has just published her eighteenth novel,
The Stars are Fire
. I read it in almost one session (with a few hours of sleep between…) which is a sign that I loved it. It is one of her best, I think.
The story, like many of Shreve's books, is set in New England; this one on the coast of Maine during a drought in 1947. The protagonist is Grace Holland, married—stoically—to Gene, a quantity surveyor and a man she married—or more accurately, who married her— because she was pregnant with his child. It soon becomes apparent that he is a bully, and has a dark past. They struggle to make ends meet. Grace is a housewife of the times, mother to two young children. The catastrophe that propels the real story forward is based on a true and horrific event; wildfires that ripped through and destroyed many communities along this stretch of coast, with many lives and homes lost. Gene leaves with Tim, the husband of Rosie, Grace's best friend, to join the fire-fighters, and Grace and Rosie flee with their children to the edge of the ocean where by spending the night buried in the wet sand and shallow water with a wet blanket covering them they somehow survive. Grace loses the child she is carrying and it seems as if Gene will never return. He was last seen walking into the fire.
The rest of the story is that of a woman who finds herself as she struggles to survive. There is a love story, beautifully and sparingly told, a terrible twist, and an ending that I will not reveal.
Shreve is a powerful writer, with the ability to write from inside her characters, to tell a dramatic story with quiet grace and devasting truthfulness. This is a feminist story about the societal restrictions of those times, and of a woman who, when faced with few options and two children to protect, takes flight.
My latest Psychology Today post:
https://www.psychologytoday.com/blog/trouble-in-mind/201704/fatigue-the-brain-and-therapists
E-newsletter:
http://www.jenniogden.com/newsletter.htm
Contact me:
jenniogdenauthor@gmail.com