A carefully-chosen book is a thoughtful gift. 'A Drop in the Ocean' Paperback on special!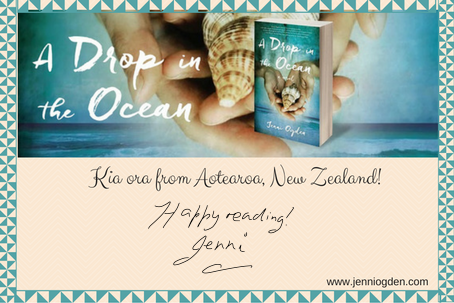 November 29, 2017
Kia ora!
Is there a woman in your life who loves to read bookclub fiction, a book that will transport them to an idyllic island, if only for a few hours? A woman who sometimes still loves to read print books rather than e-books?
For US readers who buy books from Amazon or from Barnes & Noble, the paperback edition of 'A Drop in the Ocean' is currently priced at just over US$11, which is a big discount off the usual price of US$16.95. (Go to https://tinyurl.com/ydghskho ).
I think postage is free to addresses in the US so if you live there and know somone who might enjoy this book, why not buy one for them as a Christmas or Hanukkah gift, or just because you love them? (Mothers, grandmothers, daughters, friends, work colleagues, a present to add to the pile at the bottom of your local hospital or Women's Refuge Christmas tree…) The paperback is so beautiful, such high quality with a stunning cover (that e-book version simply cannot match its real-life clothes.) Its Amazon US star rating averaged over 85 reviews is 4.6/5.
If you think it would add to your gift, please print off the 'postcard' above and place it inside the book, or e-mail me for a higher-quaity version). And every copy some lovely person buys is one less copy that the US warehouse will need to add to the landfill. Warehouses can't keep boxes of books forever, unfortunately.
I know many of you have read it already (thank you, thank you!) but for those of you who haven't (for example men with mothers, sisters, women friends or women partners…) here is a one of the numerous reviews I am happy to have received. It is suitably descriptive and thus will give you an idea as to whether it might be just the right book. (https://tinyurl.com/yafjsy7n )
From Crafty Green Poet's blog: "I read a lot and always enjoy reading stories which give clear pictures of wildlife around the world and which engage with some of the issues facing that wildlife. I enjoyed reading A Drop in the Ocean by Jenni Ogden. Here's my review.

Anna Fergusson is forced to give up a career in medical research when the funding runs out. She takes up an opportunity to live on a tiny island off the coast of Australia to look after a tiny campsite and write her memoirs. The campsite is in the middle of breeding colonies of wedge tailed shearwaters and noddy terns and is a favourite nesting site for sea turtles.

There are wonderful descriptions of nature here, from the eerie and disturbing night time singing of the shearwaters to Anna being on the beach when sea turtles come onshore to lay their eggs:

"Then I saw a dark shape pop out of the sea, only a short stone's throw from where I was sitting. I could see her bright eye in the moonlight then her head disappeared and I stayed still and quiet. Up her head popped again, and this time her great shell followed. I hardly dared breathe as she hauled herself onto the sand and then lolloped on her great flippers up the gentle incline of the beach. Every four or five lollops she would stop, her eyelids closing over her big eyes and then she would start again. I felt exhausted just watching her. Exhausted but exhilarated."

There are beautiful descriptions of snorkelling in the coral reefs too, poignant to read, given the current perilous condition of the Great Barrier Reef.

A section of the book takes place in Shetland, which I read particularly closely given we were just about to go to Shetland ourselves!

But this isn't just a book full of beautiful descriptions, it's also a moving story about how Anna becomes involved in the scientific studies of the turtles, becomes part of the local social circle, overcomes her fear of diving and comes to terms, finally with the death of her father. And will she be able to admit to her feelings for Tom, the team leader for the turtle surveys? Throw in a cyclone, an early birth, which Anna has to attend as midwife, health issues, family secrets and professional jealousies and this is an engrossing and satisfying tale, that will linger in the reader's mind.
Thank you for reading!
Jenni
PS. If engaging, intriguing and informative true stories about patients with brain disorders are more to your friend's taste, gift them my memoir, 'Trouble In Mind: Stories from a Neuropsychologist's Casebook.' I promise these stories are more uplifting than grim. Any bookshop should be able to get a copy for you, or go to Scribe Publications (ISBN 978-1-922070-56-2) in Australia or Oxford University Press (ISBN 978-0-19-982700-8) in the US and UK. Or, of course, buy it online.